Natural Grass Rejuvenation in Saskatoon, SK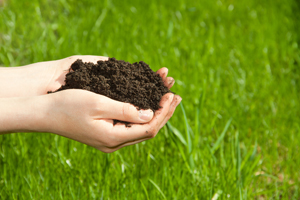 A division of Deptuck's Landscaping & Supplies, Compfert Compost is dedicated to supplying high quality composting material to our customers. Compfert Compost will rejuvenate your lawn while enhancing the environment for your flowers, shrubs, and trees. This simple mixture will give others the impression that you have employed a professional gardener. Compost nourishes the soil to create more attractive grass and plants by increasing the soil's ability to hold nutrients and water. Rather than using harmful chemicals, Compfert Compost does the same job, only better and with natural ingredients.
The benefits of Compfert Compost include the reuse of organic materials, reducing waste and greenhouse gas, and recycling natural nutrients.
Our Premium Compost Mixes are screened to 1/4 " or ½" inch size and can be delivered in bulk, Super Sacks, or 22L Bags for your convenience.
Topsoil is a crucial material for finishing and maintaining a healthy garden. There are several options and our staff can help you choose the best one for your property. We offer:
Compost
Compost Topsoil Mix
Topsoil & Manure Mix
Topsoil, Compost & Sand
Agriculture Manure